Ensemble pour Sainte-Justine
A

Great

Fundraiser

,
and a Great Cause
March 8 to 31
2023
Every year, families from across Quebec— from Gatineau to Baie-Comeau — put their lives on hold to access the expert care of Sainte-Justine. The generosity of an entire community is what makes this possible.
Together with these families, a group of civic-minded businesses, individuals and families from around the province are coming together in March 2023 to support Sainte-Justine as part of an extraordinary month-long fundraising initiative.
As the only healthcare facility in Quebec dedicated exclusively to children, adolescents and mothers-to-be, Sainte-Justine is at the vanguard of a medical revolution driven by artificial intelligence, genomics and targeted therapies. Today, more than ever before, Sainte-Justine is uniquely poised to deliver on the promise of a healthier tomorrow. But they need you to make it happen. Please show your support for their hard work and dedication with your donation.
Their commitment to the benefit of a leader in pediatric health care, right here in Quebec
Children may represent a mere 20% of our population, but they're 100% of our future. At this challenging time for our society, these companies, individuals and families have made a deliberate decision to help build a healthier future for Quebec's families. Here are the generous businesses who will be lending their support to this one-of-a-kind initiative.
A reassuring place for families provincewide
The only centre in Montreal exclusively dedicated to pediatric rehabilitation (Marie Enfant Rehabilitation Centre), improving the independence and quality of life of about 5000 patients yearly.
The leading pediatric emergency, trauma and intensive care centre, treating the majority of young accident victims in the province.
A supraregional oncology centre, where more than 65% of childhood tumours are diagnosed and treated in Quebec.
The province's top referral pediatric university hospital, where 5 out of 10 children requiring specialized care are sent for treatment. Also, the centre of reference for rare diseases.
The only hospital in Quebec to perform pediatric bone marrow transplants and all types of solid organ transplants, and the only pediatric cell therapy centre.
Canada's largest neonatal care facility, treating 1,500 babies every year, including 130 extremely preterm infants. The mobile neonatal intensive care unit serves some 40 hospitals, providing specialized care to roughly 500 newborns every year.
The main authority in child psychiatry for case assessment and management in Quebec.
AMBASSADORS
Because Sainte-Justine Changes Lives in Your Community
Medicine is evolving at a tremendous pace. Every day, the experts at Sainte-Justine keep looking for answers, regardless of how hard they may be to find. Every day, lives are saved and new avenues open up to improve the quality of life of young patients.
ESTRIE
Arnaud and Ophélie: A Shared Experience, a Lifelong Bond
In May 2016, 10-month-old Arnaud was having trouble breathing. Repeat medical visits didn't shed any light on what was wrong. He kept getting sent home with a diagnosis of pneumonia or bronchiolitis. But his parents wanted to investigate further. So off they went to Sainte-Justine.
The test results showed that Arnaud had cystic fibrosis. Which meant his family would have to bone up on the multiple treatments he would require to give him the best shot at a normal, healthy life as he grew up. A few short weeks later, they had all the tools and information they needed, thanks to the wonderful cystic fibrosis team at Sainte-Justine.
In September 2019, Arnaud welcomed baby siter Ophélie to the family. She was eventually diagnosed with the same condition. This time, their parents didn't feel quite as lost and overwhelmed by it all. They knew what to expect, and they knew they had support. Since then, both children have gone into their appointments together, and the shared experience has only strengthened their bond.
"Everyone there has been so supportive since day one. They have listened and reassured us every step of the way. They've taken all of our concerns seriously, and that has proven to be a big help for both our kids." — Mélanie and Mathieu, parents of Arnaud and Ophélie
CAPITALE-NATIONALE
Simone: Searching for answers
The first time Simone came through CHU Sainte-Justine's big revolving doors, she was just a few days old. Her moms were looking for answers about their daughter's malformation: she was born with one leg twice as big as the other. They learned that a rare disorder called Parkes Weber syndrome was affecting part of Simone's vascular system. It's the reason for her overgrown limb, which contains more blood vessels than normal.
For now, there is no cure for Simone's illness. However, there are a number of solutions available to reduce the risks to her health and manage the symptoms of her condition. At the age of 8 months, she was started on trametinib, a drug traditionally used to treat certain types of cancer.
CHU Sainte-Justine is able to provide the complex care Simone needs. She and her family go there for various follow-ups and interventions that require the uniquely specialized expertise of the multidisciplinary vascular anomalies team, led by Dr. Josée Dubois.
LAVAL
Mathis: On the road to recovery
When Mathis was born, Dr. Jean-Marc Mac-Thiong, an orthopedist at CHU Sainte-Justine, conducted a series of tests and examinations that confirmed a severe case of scoliosis. Just six months later, the boy's spinal curvature was greater than 35 degrees. Time was not on his side: by age 2, the curve had already increased to more than 50 degrees, putting Mathis's internal organs at risk.
Despite the efforts of the orthopedic unit and Mathis's strong will, the scoliosis continued to worsen. To slow its progression, Dr. Mac-Thiong performed another operation to install growth rods. Every six months, the rods are lengthened to allow Mathis to continue to grow.
For this young boy, every operation brings him one step closer to freedom. He has a great attitude and never misses an opportunity to play his favourite sports, as long as his treatment allows it. Sainte-Justine's medical staff, who have been there for Mathis since day one, will continue to look after his physical and mental health throughout this challenging journey.
MONTRÉAL
Sandro: A special prosthesis for a special child
Sandro was born without a tibia in his right leg. Today, however, at 3 and a half years old, he can walk, run, and skip like any other child his age thanks to a prosthesis designed for him at CHU Sainte-Justine's Technopôle en réadaptation pédiatrique, a tech hub for pediatric rehabilitation.
Sandro has a condition known as tibial hemimelia. It is the rarest of all orthopedic birth defects, affecting approximately one in every one million children.
In September 2020, Sandro's foot had to be amputated. Following a recovery period, the young patient received his first custom prosthesis. Since he had no ligaments in his knee and a very crooked fibula, his prosthesis included several components that had never been combined before. At 18 months, Sandro could finally start learning to walk! Aided by physiotherapy sessions at the Marie Enfant rehabilitation centre (CRME) and his own incredible determination, he was up and about sooner than anticipated.
In October 2022, Sandro had to undergo another operation to correct a curve in the axis of his leg. He demonstrated the same remarkable resilience as he learned to walk again with a brand-new prosthesis. Sandro's success story is a testament not only to the skill of his orthopedic surgeon, Dr. Peter Glavas, and the prosthetists at the CRME, but also to the rapid advancement of pediatric rehabilitation in Quebec over the past few years, an evolution that wouldn't have been possible without your donations.
ABITIBI-TÉMISCAMINGUE
Coralie: The Greatest Gift of All
"After over a year of isolating, home schooling, dialysis and going back and forth to Sainte-Justine, our family is gradually getting back to some semblance of normal and healthy in 2022. I had the privilege of saving my daughter's life last year through organ donation: the greatest gift of all." — Sabrina, Coralie's mother
It was August 5, 2020. During the night, Coralie's nose started to bleed. A lot. Tests at her local hospital revealed a serious health problem. Her kidneys had all but shut down. It wasn't long until she was on a medevac flight to Sainte-Justine, where she would spend close to two months being treated for two autoimmune diseases that appeared out of the blue.
"Dr. Michel Lallier and his team performed their magic on November 30 when this tiny little organ of mine was removed at the CHUM and rushed over to Sainte-Justine, where he transplanted it into Coralie's body. That day will be etched in the memories of everyone in our family forever."
Coralie and her mother, Sabrina, are now back home, in their small community near Val-d'Or. Coralie doing well. She's a regular teenager again, enjoying life with her friends and her three siblings. And she has the expertise at Sainte-Justine to thank for all of it.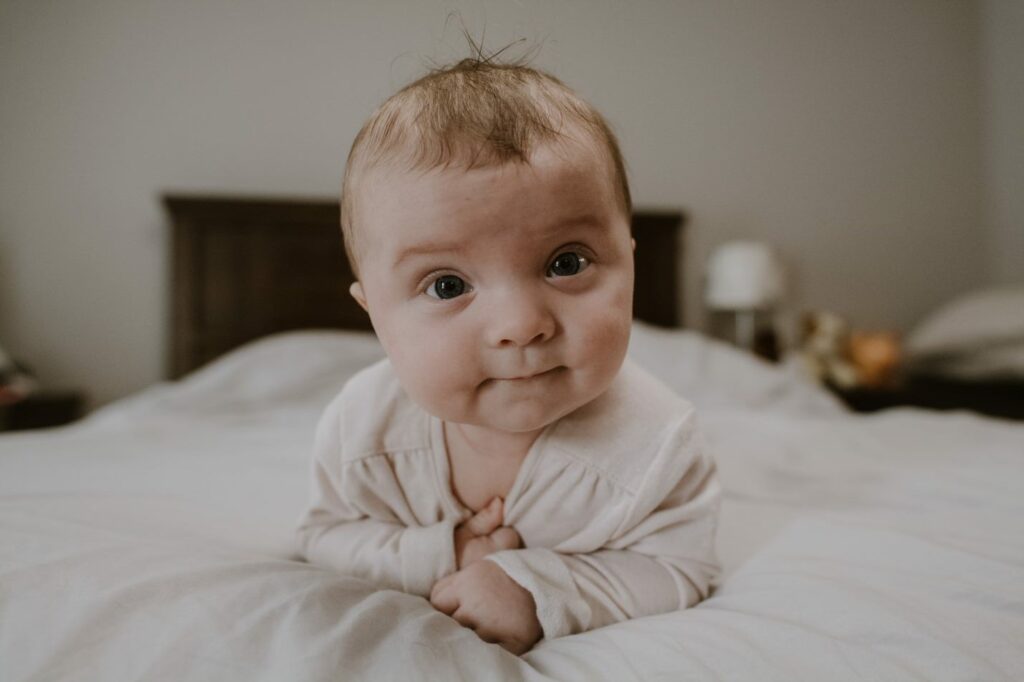 CHAUDIÈRE-APPALACHES
Emmy: A Tiny Life Saved In Utero
Only 20 weeks into her pregnancy, Marie-Pier found out the baby she was carrying had an accumulation of lymphatic fluid around her lungs. It was June 27, 2019, The doctors at the CHU de Québec–Université Laval prepared Marie-Pier and Daniel for the worst: "Your baby might not make it." They were both floored. And worried sick. And feeling just about every other emotion imaginable.
Marie-Pier asked for a second ultrasound, which showed that the fluid in Emmy's chest cavity had quadrupled in volume.
For Dr. François Audibert, a specialist in fetal therapy at Sainte-Justine, the diagnosis was clear. He confirmed that Emmy had a type of pleural effusion known as chylothorax. Marie-Pier checked into Sainte-Justine the next morning.
Thanks to the specialized surgical equipment you support at Sainte-Justine, Emmy underwent fetal surgery at 22 weeks' gestation. They carefully inserted a needle into her chest to place two shunts that would drain the fluid.
The procedure worked! Emmy was born full-term 16 weeks later, on October 30, the picture of health.
MAURICIE
Viviane: A Life Twice Saved
Little Viviane was very sick. She was five months old when her family learned that she had two life-threatening aneurysms that could burst at any time. It was December 2019. 
At Sainte-Justine, an army of specialists mobilized to make sure she had access to the most sophisticated care and technology. They saved her life. Not once, but twice. Now back home in Trois-Rivières, Viviane still goes in for regular check-ups with the specialists at Sainte-Justine's ambulatory cardiology clinic.
"Viviane is a going concern. She climbs and jumps around. I call her my little 'tank.' She's unstoppable. Later in her teen years, she'll have to undergo another heart operation. What kind of innovative techniques will they develop between now and then, I wonder? Only time will tell. I, for one, am looking to the future with confidence. And that's because of Sainte-Justine." — Alexandrine, Viviane's mother
CAUSE
Delivering the best health care in the world to the children of Sainte-Justine
Medicine is evolving at a tremendous pace. Every day, the experts at Sainte-Justine keep looking for answers, regardless of how hard they may be to find. Every day, lives are saved and new avenues open up to improve children's quality of life. Now, more than ever, Sainte-Justine is ready and determined to deliver on the promise of a healthier tomorrow. But we can't do it without you.

Together, we are helping to cement Sainte-Justine's position as a leader in pediatric medicine in Canada and around the world:

50% of Quebec children who require specialized care are referred to Sainte-Justine.
80% of Quebec pediatricians train at Sainte-Justine.
75% of serious pediatric trauma cases in the province are transferred to Sainte-Justine.
3,500 babies are delivered here every year, including 60% from high-risk pregnancies.
10,000 children are operated on here every year.
84,000 young patients a year are admitted to Sainte-Justine's emergency room.

The reason we can provide the best care to every family is in large part because of generous people like you who are taking part in the Together for Sainte-Justine campaign. Thank you!